#21 Correspondence between the Sri Yantra and the inner form of the 7-tree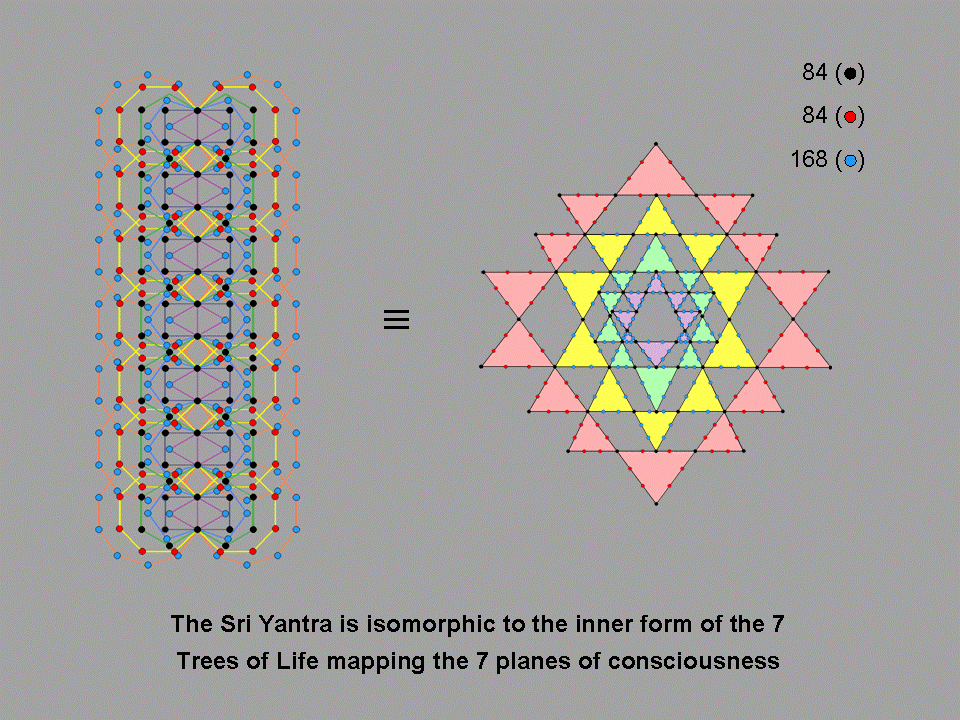 The two sets of the first six enfolded polygons are a holistic structure in themselves, having 50 corners, where 50 is the number value of ELOHIM, Godname of Binah (how other Godnames prescribe this subset of the seven polygons is discussed in Article 4 (WEB, PDF)). The 42 such polygons enfolded in seven overlapping Trees of Life have 336 corners that are intrinsic to them in the sense that none of them is a corner of a polygon enfolded in the next higher Tree. 168 corners are associated with each set of 21 polygons, where 168 is the number value of Cholem Yesodoth, the Mundane Chakra of Malkuth.
Compare this with the fact that, when turned into tetractyses, the 21 triangles in the four layers in each half of the 3-dimensional Sri Yantra have 168 yods lining their sides (the central triangle is omitted for the sake of clarity). In each case, the number 168 shapes the whole (either as corners of polygons or as yods on boundaries of triangles). This is consistent with the Kabbalistic meaning of Malkuth, for the number quantifies the outer form of the holistic system.