#23 Yod composition of the first 6 enfolded polygons corresponds to the geometrical composition of the disdyakis triacontahedron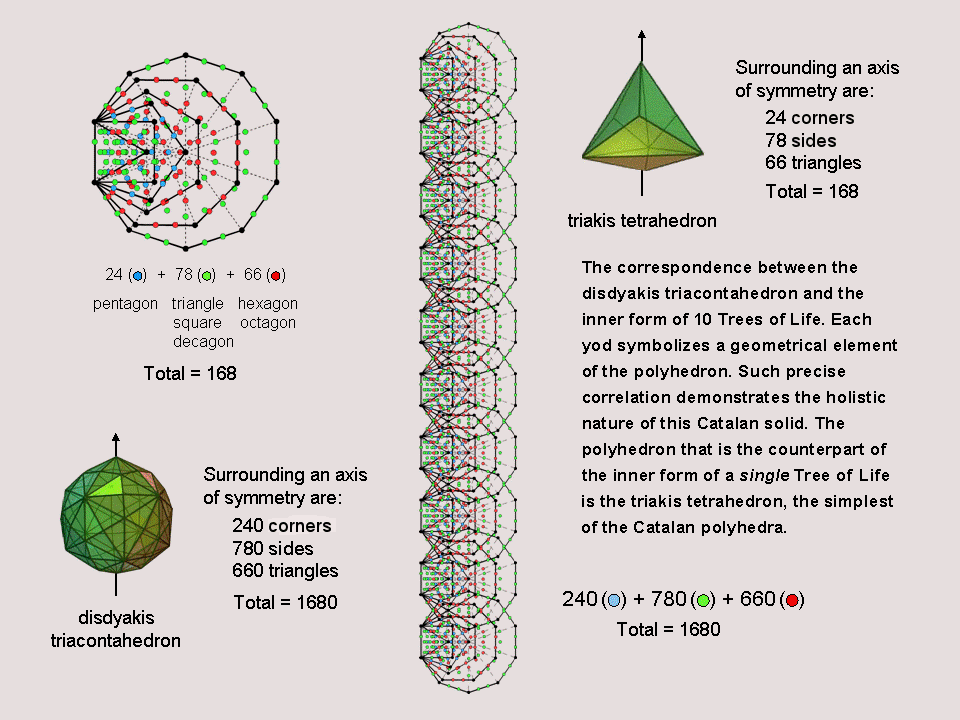 With their 35 sectors turned into tetractyses, the first six enfolded polygons of the inner Tree of Life have 169 yods other than their 26 black corners. Associated with each set of such polygons is 168 yods (24 blue yods in the pentagon, 78 green yods in the triangle, square & decagon and 66 red yods in the hexagon & octagon). There are (24+66=90) red & blue yods. The numbers 90 and 78 are the gematria number values of the Hebrew words 'Cholem' and 'Yesodoth' making up the Kabbalistic name of the Mundane Chakra of Malkuth (see table in #1). Associated with the 60 polygons enfolded in ten overlapping Trees of Life are 1680 yods other than the 240 corners that are intrinsic to them in the sense explained on the previous page. They comprise 240 blue yods, 780 green yods and 660 red yods.
Compare these properties with the disdyakis triacontahedron. When the sectors of its 180 internal triangles formed by its centre and pairs of vertices are turned into tetractyses, there are 240 corners, 780 sides & 660 triangles surrounding an axis passing through any two opposite vertices of the polyhedron. This amazing correspondence demonstrates that the disdyakis triacontahedron is the polyhedral counterpart of the inner form of ten overlapping Trees of Life — the complete representation of the Tree of Life blueprint.
The significance of the number 1680 is that it is the number of 1st-order spirillae in each whorl of the UPA, the fundamental unit of matter described in Occult Chemistry and now identified as the subquark state of the E8×E8 heterotic superstring. It is discussed further in Superstrings as sacred geometry.
Including the 24 intrinsic corners associated with the first six polygons enfolded in an overlapping Trees of Life, each set of six polygons has 192 yods. Amazingly, each set of polygons has the same number of intrinsic yods as each half of the table of 64 hexagrams has lines & broken lines. This further demonstrates that these 12 polygons constitute a holistic system. Their (24+24) intrinsic corners correspond to the (24+24) lines & broken lines in the (8+8) trigrams in the hexagrams along its diagonal.