#29 Correspondence between the 1-tree and the 7 separate polygons of the inner Tree of Life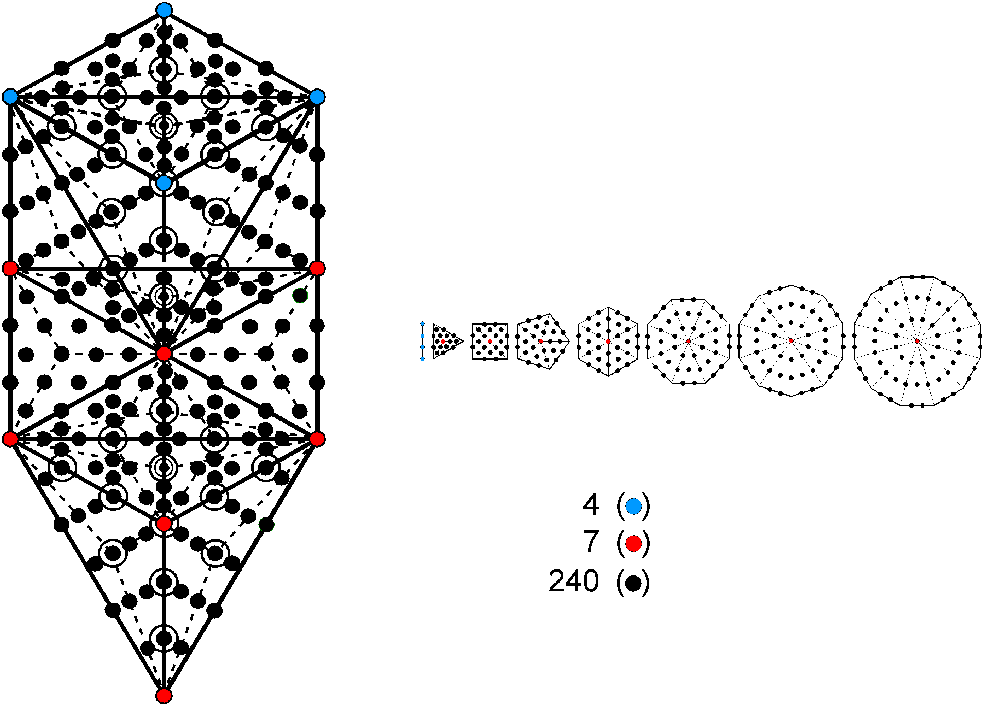 The 251 yods in the 1-tree when its 19 triangles are Type A consist of the four blue yods at Kether, Chokmah, Binah & Daath, the seven red yods at the positions of the Sephiroth of Construction and 240 black yods.
Compare this 1:4:7:240 pattern with the distribution of yods in the inner form of the Tree of Life. The seven separate, regular polygons with tetractyses as their 48 sectors have 295 yods. They comprise 48 yods at the centres of tetractyses, 240 black yods that line the sides of the tetractyses & seven red centres. Four blue yods lie on the separate root edge. The following correspondences exist between the 251 yods in the 1-tree and the 251 yods either in the root edge or on sides of the 48 tetractyses in the seven separate polygons:
Kether, Chokmah, Binah & Daath of the 1-tree ↔ 4 blue yods in the root edge;

7 Sephiroth of Construction ↔ 7 red centres of the polygons;

240 yods ↔ 240 black hexagonal yods in the 48 tetractyses of the seven polygons.
240 yods that line sides of tetractyses also surround the centres of the seven polygons. However, given that 240 extra yods are needed to construct the 1-tree from Type A triangles, the 240 hexagonal yods in the polygons are what correctly correspond to them because they, too, are the extra yods required to turn the sectors of the polygons into tetractyses, whereas the 240 yods lining sides include the corners of sectors, so that not all of them can be regarded as additional yods required by the transformation.