#12 192:192 divisions in the inner Tree of Life and the 64 hexagrams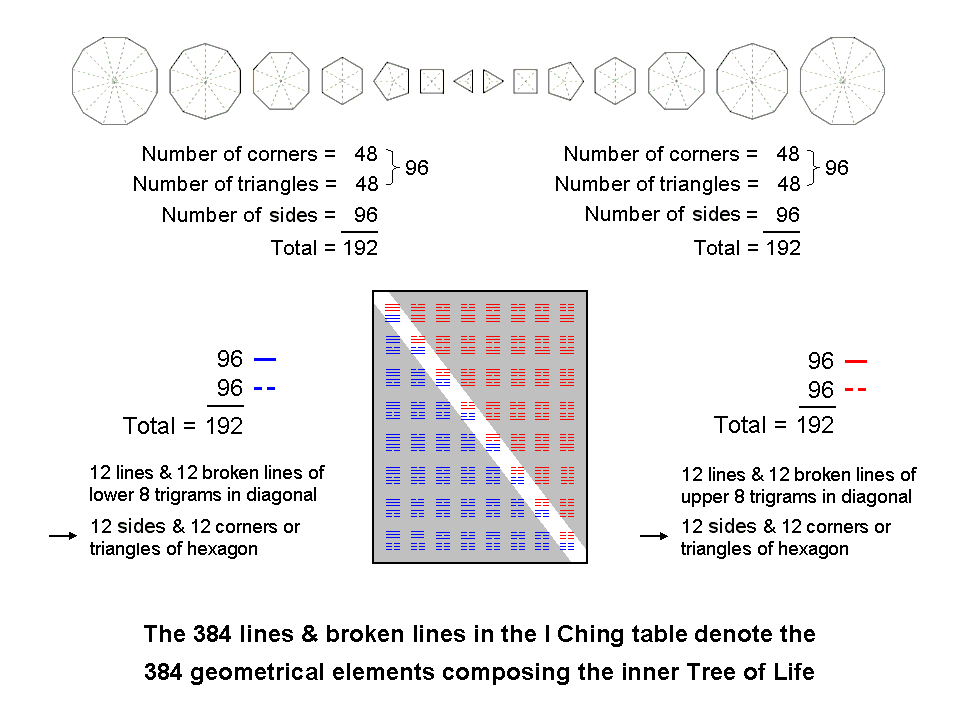 The seven separate polygons of the inner Tree of Life have 48 corners, 48 triangular sectors and 96 sides surrounding their centres. These 192 geometrical elements are matched by 192 elements in the mirror image set of seven polygons.
This 192:192 division in the geometrical composition of the two sets of polygons has its counterpart in the I Ching table of 64 hexagrams, there being 192 Yin & Yang lines in each diagonal half of the 8×8 square array of hexagrams. The 12 lines and 12 broken line in the eight upper or lower trigrams along the diagonal correspond to the 12 sides and the 12 corners & triangles in each hexagon.
The 192 geometrical elements in each set of polygons comprise 96 corners & sides forming their boundaries and 96 internal sides & triangles. They are symbolized, respectively, by the 96 Yin lines and 96 Yang lines in the 28 off-diagonal hexagrams in each half of the array (intuitively speaking, the outer form of an object is its female, or yin aspect, and its interior is its male, or Yang, aspect, so that external elements that shape the polygons are Yin, whilst elements in their interiors are Yang.